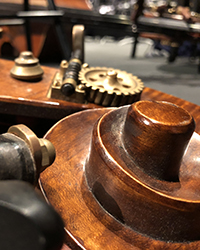 Symphonic I: Higdon & Ravel
When
Occurs on Thursday October 4 2018
Approximate running time: 2 hours
Venue
Performance Notes
×
The 2018-19 Season opens with
HIGDON & RAVEL
,
Thursday, October 4, 2018, 7pm
with Associate Conductor and Education Director Ming Luke leading the Orchestra for the first time at Zellerbach Hall to present an evening of firsts, a common theme for those familiar with Berkeley Symphony. The Orchestra kicks off the season in an exultant mood with the grand ceremonial fanfare of
Festive Overture
, Op. 96 by Dmitri Shostakovich. Benjamin Beilman makes his debut performance with Berkeley Symphony as the soloist in Jennifer Higdon's Violin Concerto. The Orchestra performs Music Alive Composer-in-Residence Anna Clyne's visually stunning
Night Ferry
and in collaboration with the Fisher Family Art Lab at BAMPFA will display graphic scores inspired by Clyne's ground-breaking approach to composition through visual art. Berkeley Symphony and Clyne are entering the final year of a three-year collaboration that will give the composer new opportunities while in Berkeley to write and workshop new orchestral music, and engage with the Berkeley community beyond the orchestra hall. Music Alive is a national residency program of the League of American Orchestras and New Music USA. The concert concludes with Ravel's
La Valse
which offers a glimpse into the thematic splendor of the concerts to follow.